UkeTok Live Events
Our live "gigs" are interactive play-along sessions where we encourage everyone to take part - just like our online club meetings, but with people gathered together in real life.
The karaoke-style songbook app shows words and chords in an animated format which makes it easy for everyone to play together.
These videos show past events where many of the people playing have never played together before, but are still able to join in with confidence - even on songs they don't know yet!
In particular, we think these sessions are a perfect "warm-up" at a ukulele festival. It's a fantastic way to bring visitors together and start the day on the right note.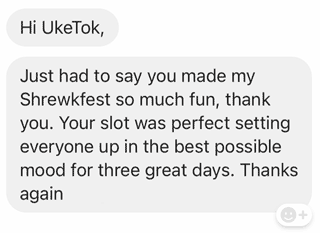 People can connect to our hotspot with any tablet or phone, and we have a number of devices to lend out for those that don't have their own.
For larger events, the songbook app can be connected to large screen displays or a projector.
We would love to bring our play-along - and many of our members - to your ukulele event. Please contact Chris Newman via email (reply to the welcome message when you join the club or via the Facebook page for more details.